Ascent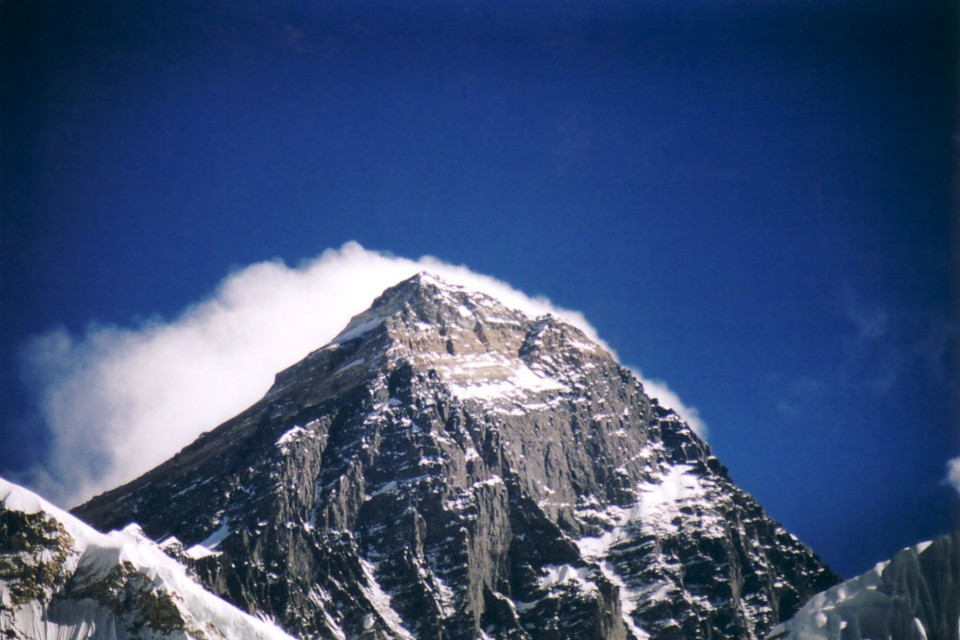 One morning a 69-year old gentleman named Xia Boyu woke up in his tent.
A tent pitched at the base of the highest mountain on Earth. Everest Base Camp. His dream? On this day to climb and reach the summit of Everest. He had been preparing for more than 40 years for this day. This was not, however, Xia's first time at Everest.
And therein lies a remarkable tale of perseverance.
In 1974 the Chinese Mountaineering Association announced it was looking for climbers to join an upcoming expedition to Everest. An avid soccer player, 25-year old Xia submitted an application. Though only for the opportunity to get a free health check-up!
To his surprise he was chosen. He figured there would be foreign travel, a spot of adventure, and he would soon be back to playing soccer. After a few months of training, in January 1975, Xia, as part of a 20-men Chinese team, tried to scale the 8,848 metre peak. About 200 metres from the top the climbers were forced to turn back due to raging storms.
They were descending in difficult conditions when Xia gave up his sleeping bag to an ill climber who had lost his. He woke next morning to numb and severely frostbitten feet and had to be carried down the mountain. Soon after returning to China his injuries proved so severe that both feet had to be amputated.
It was a devastating blow to the soccer fanatic.
But the experience had awakened a dream in Xia. To reach the summit of Everest. However long it would take. Whatever it would take. Facing down the worst odds.
Fitted with prosthetic limbs, he became an advocate for the disabled in China and participated in various Paralympic events. To prepare for his return to Everest he often woke at 5 or 6AM to train for 5 to 6 hours. He would climb small mountains around Beijing and go on long hikes.
In 1996 he confronted a new challenge when he was diagnosed with lymphatic cancer. He had to undergo another round of amputation, losing his lower limbs below the knees.
Finally, in 2014, Xia got his second chance.
Now in his sixties - he had arranged sponsorship and put together a team and returned to Everest Base Camp, only to find all expeditions cancelled when avalanches on the mountains killed 16 Sherpa guides that year.
Xia returned the following year in a third attempt. The climbing season was abruptly ended when a devastating earthquake struck Nepal killing over 6,000 people and damaging thousands of villages.
In 2016 Xia's team mounted a fourth attempt. They made it to 100 metres below the summit when they were engulfed by a snowstorm. With visibility near zero they were forced to turn back. Xia, recalling the heart-wrenching decision, said "If it had only been me, I would have done everything [to get to the top], including dying there ... However I could not risk the lives of others just to achieve my own goal."
At the end of 2017 the Nepal government banned double amputees and blind people from climbing Everest, claiming it would make the mountain safer. An outcry from advocates of the disabled argued the restrictions were discriminatory and the Nepal supreme court agreed. In March 2018 it stayed the government's order.
Two months later, Xia returned to Everest for a fifth attempt.
As he began his ascent, Xia was facing sub-zero temperatures, low levels of oxygen, and possible blizzards and avalanches – all while climbing on two prosthetic legs. The prosthetics compound the difficulty of mountaineering. Both in terms of mobility – they lack the grip and flexibility of human feet, so Xia has to exert more energy in each step – and because Xia cannot feel the ground beneath him, forcing him to assess its stability by sight alone.
One year ago today - on the 14th of May at 08:31 local time - Xia reached the summit of Everest.
The feeling, however, was not how he had imagined it would be: "I had thought when I finally reached the summit, I would shout it to the world. I would do all these poses for photos. But when the moment arrived, I just felt calm."
Later he said, "Dreams have nothing to do with age. You can have a dream at any age. All that matters is whether you can persist long enough to fulfill it."
Many years ago, the Scottish mountaineer William Hutchison Murray, had this to say about beginning work on a dream ...
Until one is committed, there is hesitancy, the chance to draw back, always ineffectiveness.
Concerning all acts of initiative and creation, there is one elementary truth
the ignorance of which kills countless ideas and splendid plans:
that the moment one definitely commits oneself, then providence moves too.

All sorts of things occur to help one that would never otherwise have occurred.
A whole stream of events issues from the decision,
raising in one's favour all manner of unforeseen incidents, meetings and material assistance
which no man could have dreamed would have come his way.

Whatever you can do or dream you can, begin it.
Boldness has genius, power and magic in it. Begin it now.
CC BY-NC-ND image of "Top of Everest" courtesy of apurdam